B&Bs at Edinburgh Airport
Travelling doesn't have to be stressful! A stay in a bed and breakfast at Edinburgh Airport will allow you to wake up feeling energised and ready to take on your journey that lies ahead! View our selection of some of the best B&Bs around that are only a short distance away from the airport.
Breakfast at Holiday Inn Express - 3 Star

Prices range from £86.00 to £184.00
About
The brand new Holiday Inn Express Edinburgh Airport delivers comfort, great value and convenience - it is only 4 minutes from the terminal! The Holiday Inn is at the top of our list, despite not necessarily being considered a traditional B&B, because of its fantastic basic amenities and yummy breakfasts. Guests are treated to contemporary rooms with comfy beds, freeview TV, and power showers. Enjoy both free WiFi and a free breakfast. The inclusive yummy Express Start Breakfast is made up of sausages, bacon, eggs and beans, as well as some continental items. Breakfast is open Monday - Sunday from 4:00am - 10:00am.
Holiday Inn Express Edinburgh Airport with Parking
Express by Holiday Inn with Parking at the Hotel and Breakfast - this package means you can leave your car at the hotel whilst away on your trip. The hotel provides minibus transfers 24 hours to get you to and from the airport.
Getting to and from Edinburgh Airport
The hotel is a 4 minute drive to the terminal. The hotel has a minibus providing airport transfers 24 hours a day. The transfers costs £2.50 per adult for a return, and are free for children under 13. You need to pay for your transfers at the hotel. If you book a package that includes parking at the hotel, you'll need a transfer back to the hotel to pick up your car when you return from holiday. You can use the phone in the UK arrivals hall to call the hotel and ask for a transfer.
Directions to Holiday Inn Express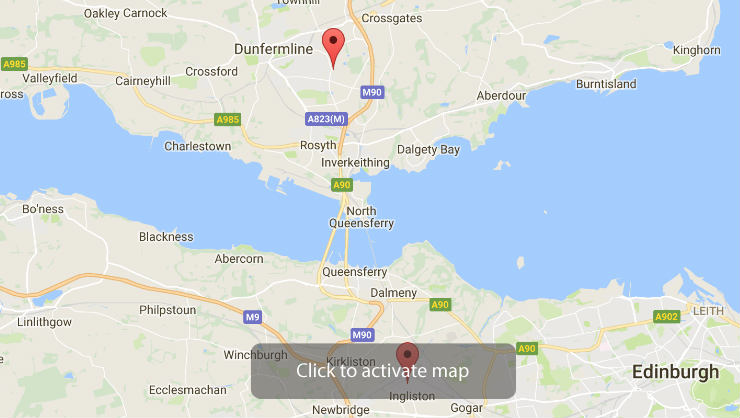 Norton House Hotel with Breakfast - 4 Star

Prices range from £114.00 to £191.00
The exquisite Norton House Hotel is a stunning 1840 Scottish country mansion set in 55 acres of grounds, boasting an award-winning restaurant and deluxe spa. The airport is only a 5 minute drive away. Guests can relax in boutique bedrooms that come with impressive bathrooms (including free toiletries), free WiFi, minibar, satellite TV, DVD player, and much more. Breakfast is made to order. A cold buffet is also available which includes yoghurts, fruits, bread, cereals, and more. The hotel also can cater for special dietary requests. Breakfast is served from 7:00am - 9:30am on weekdays, and 8:00am - 10:00am on weekends. Breakfast starts from £15.00 per person. Currently, this hotel isn't sold with Airparks, so reservations and Edinburgh Airport parking need to be booked separately.
Norton House Directions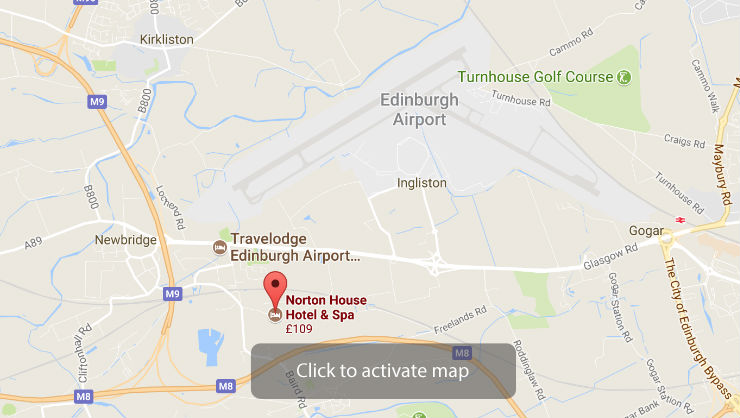 Visit Norton House Hotel's website to book your room >
Breakfast at Doubletree Hilton Edinburgh - 4 Star

Prices range from £90.00 to £260.00
A highly luxurious place to stay, the Doubletree Hilton Edinburgh Airport is only 2 minutes from the airport (in fact it's one of the closest hotels to the airport), and is a great B&B choice. Rooms have ample space, and are beautifully decorated in a modern style; they come equipped with a flat screen TV, radio, tea & coffee maker, desk, and more. Free WiFi is also included, and is said to be speedy and reliable. Breakfast is a Full Scottish buffet with cold continental choices as well. Breakfast is served from 5:00am - 10:00am on weekdays and 5:00am - 11:00am on weekends.
Hilton Edinburgh Airport Parking
DoubleTree by Hilton with Parking at the Hotel - this package ensures you can park at the Hilton for the whole of your trip. On the day of your stay, drive to the hotel and park your car (there are directions in your confirmation email).
Getting to and from Edinburgh Airport
The hotel has its very own shuttle bus which runs when needed 24 hours a day. It takes 2 minutes and is included in the price. You can also walk to the airport if you would prefer. When you arrive home, phone the hotel and they will send the shuttle bus to come and get you.
Directions to Doubletree Hilton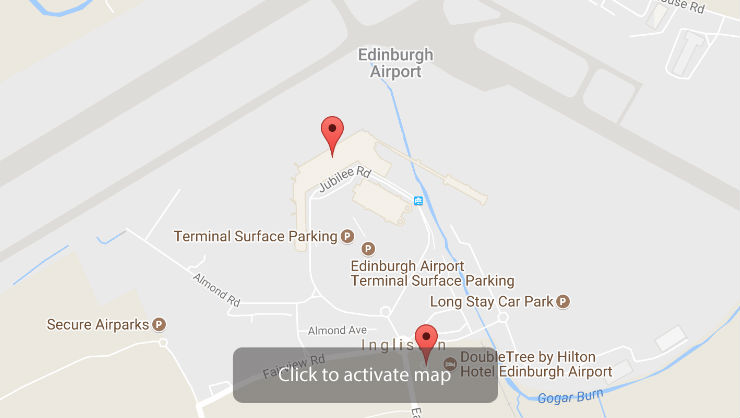 Allburys Boutique B&B - 5 Star

Prices range from £70.00 to £155.00
Located only a 5 minute walk from Haymarket Station and a 20 minute drive from the airport, the lavish Allburys B&B is nestled in a quiet Victorian Crescent. Suites come with flat screen TVs, WiFi, a Playstation 3, mini bar, and DVD player. Breakfast is a Full Scottish Breakfast as well as continental options. All Allburys breakfast foods are sourced locally from small Edinburgh producers - including seasonal fruits and meats and fantastic freshly baked treats. At the moment, this bed and breakfast isn't sold with Airparks, so you need to make your room reservation and Edinburgh Airport parking separately.
Directions to Allburys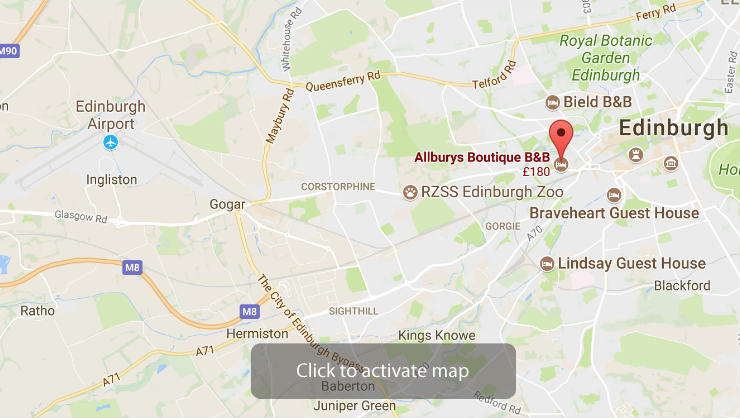 Visit Allburys' website to book your room >
Edinburgh Airport Hotels with Parking
If you would like more Edinburgh Airport accommodation options, take a look at our Edinburgh Airport Hotels with Parking for some alternative choices.