You are here: Home > Airport Parking > Manchester > Toad Parking Park & Ride Manchester Airport
Toad Park and Ride Manchester airport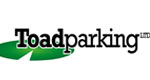 Toad parking is no longer available to book. Check out our Manchester airport parking for other great parking offers.
Located just a 3 minute bus ride from the terminals, Toad Parking is a convenient, well-priced option for parking at Manchester Airport. The Toad Parking bus serves all 3 airport terminals and the friendly staff will park your car for you on arrival so there's no delay getting you to check-in.
Transfers: This is a Park and Ride service and the coach takes about 3 minutes to drive between the car park and the terminals. Buses run 24 hours a day, in peak season (between April and September) every 10-15 minutes. In off-peak months (between October and March) the buses run every 30 minutes.
Arrival procedures: Staff at the car park will greet you when you arrive. Hand them your car keys so they can park your car while you 'hop' on the Toad Parking coach. They are happy to help you load your luggage on the bus if you'd like. Then you'll be driven straight to the terminals in about 3 minutes.
Departure procedures: On your return, once you've collected your luggage and cleared customs, call Toad Parking on 0161 498 9119 to let them know you're on time and they will bring your car to their reception ready for you. Catch the return transfer coach and you'll be back at your car in no time. Collect your keys from reception and off you go.
Security: Toad Parking is a secured compound which is manned 24 hours a day, has CCTV and electric gates. There is also flood lighting and regular security patrols. It has been awarded the Park Mark Award for safer parking, from the police, approving Toad Parking as a secured facility.
Important information:

Please note this car park cannot accept bookings for any vehicles with a trailer, a carrying capacity of more than two vehicles, commercial vehicles with a gross weight in excess of 3.5 tons or motorcycles.
There are no facilities for customers with disabilities.