Compare Gatwick Airport Parking
Book now from only

£79.05

for 8 days
---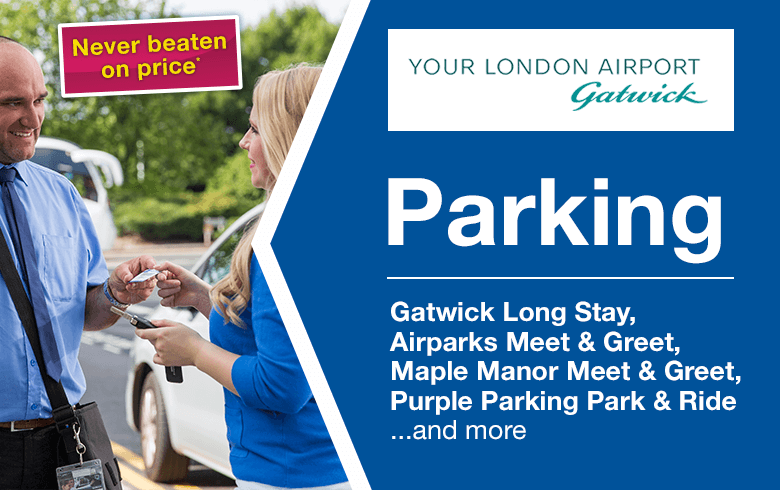 You are here:
Gatwick Parking
Gatwick Airport Parking
From as little as £9.88 a day you can choose from a variety of Trading Standard-approved parking sites that will have you at both Gatwick airport terminals in no time.
Why choose to pay costly at-the-gate prices for Gatwick parking when you can save up to 60% by booking in advance with Airparks? From Park and Ride car parking to Meet and Greet packages, you can be sure we'll have a Gatwick airport parking deal to suit your budget. In fact, just take a look at our Best Price Guarantee to know that you won't get a cheaper price than with Airparks.

* Live airport parking prices are constantly changing according to supplier availability and pricing and, as such, may be different to the prices advertised here. We do our best to display the most relevant, up-to-date prices here using example dates and times (specified within the '(?)' ) which is always the cheapest 8 day period within the next 61 days.
Types of Gatwick parking service
We have plenty of different car parking services available at Gatwick airport, serving both the North terminal and South terminal - from Park and Ride to Meet and Greet, cheap parking for those looking to keep their Gatwick airport parking charges down and on-airport car parks for convenience. Whichever service you choose, you can rest assured your car will be stored in a safe and secured car park.
Why not save yourself the hassle of an early start and the stress of getting stuck in traffic, and choose one of our great value Gatwick airport parking and hotel packages.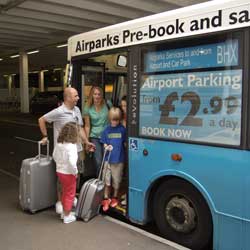 Off-airport Gatwick parking
They might be located outside the airport perimeter but all our off-airport car parks at Gatwick are very close to the airport grounds; the longest transfer takes just 15 minutes. Transfer buses serve both North and South terminals, and transfers to and from the terminal building are free. Off-site Gatwick parking is invariably the best for cheap Gatwick parking deals because the transfer buses take a little longer than those of the on-airport car parks.
For more details about each service, check out our pages for each off-airport Gatwick car park: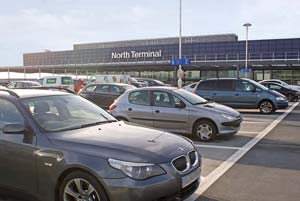 On-airport Gatwick Airport parking
Save time with on-airport Gatwick parking; enjoy just a short walk or quick bus ride to the terminal building.
These are car parks located inside the airport perimeter. You can either walk, or take one of the free transfers - they take no longer than 5 minutes from the car park to the terminal and operate to the both terminals.
You have a number of on-airport parking deals at Gatwick to choose from:
The closest on-airport car parks are the official Gatwick Short Stay car parks, located at both terminals. Please note: at present you can't book Gatwick Short Stay car park in advance with Airparks, instead you will need to pay on-site. For customers wanting the convenience of no transfers without the price tag, we would recommend our Meet and Greet parking at Gatwick.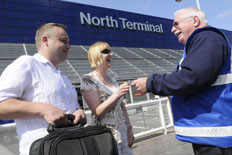 Gatwick Parking Meet and Greet
Talk about a time saver! Meet and Greet is the simplest and easiest car parking at Gatwick Airport. Just drive your car to the terminal building where a driver will meet you and, once you've unloaded your bags, your driver will park your car in a secured car park near Gatwick airport. At the end of your trip, your car will be brought back to you, so you can jump in and head home.
You may also hear Meet and Greet referred to as 'Gatwick Valet parking', not to be confused with the Valeting car wash services that are optional extras to add to your airport parking.
Choose between the following Gatwick Meet and Greet parking options:
Parking at Gatwick terminals
Gatwick parking North terminal
Some parking options are slightly more convenient if you are flying from the North terminal. There are two official Gatwick car parks, Long Stay and Short Stay, located at both terminals, so there are no diversions. Unless you're staying for less than 30 minutes, Long Stay North is always a cheaper option as it's intended to be used for longer durations. It functions as a Park and Ride service and is about 5 minutes from the terminal by bus. There's also the Summer Special Parking to consider for your Gatwick parking if you're, as the name suggests, travelling in the summer. This exclusive Gatwick airport parking option is hassle free and is just a 10 minute transfer journey to the terminal.
Prices can vary for the official car parks between the North and South terminals so, if you wanted to, you can always choose the cheapest Gatwick airport parking deal and then hop on the Gatwick monorail to get yourself to the other terminal. It's not as convenient but, sometimes, it can you save a few pounds.
Gatwick parking South terminal
There are two official South terminal Gatwick car parks: Short Stay which is on the terminal doorstep so you can walk to check-in, and Long Stay South which is a 5 minute bus ride away and subsequently much cheaper. Both are really easy to find - just follow the signs as you approach Gatwick airport. Please note: at present you can't book Gatwick Short Stay car park in advance with Airparks, instead you will need to pay on-site.
Gatwick Park and Ride for both terminals
If you're looking for Gatwick airport parking that won't break the bank these Park and Ride options, that serve both terminals, are ideal. Off airport Gatwick parking often works out cheaper as you do have a little bit further to travel but those extra 5-10 minutes on the transfer bus are an easy way of keeping those Gatwick airport parking charges down.
Purple Parking, formerly Airparks, is a firm favourite with our customers for low cost Gatwick parking. Unlike the official on-airport car parks, Purple Parking provide a valet service whereby you don't need to find a parking space when you arrive or locate your car when you return. You drop off and pick up your car at the reception so arrivals and departures at Purple Parking are very smooth and quick. To get to the terminals from the car park you simply need to hop on the free transfer bus; if you're flying from North terminal you'll be there in 10 minutes, and 15 minutes to get to Gatwick South terminal.
If you're looking for a speedy and cheap Park and Ride for your Gatwick airport parking look no further than Cophall Parking. Enjoy the convenience of one of the team parking your car for you and just a 10 minute transfer to the terminal.
Choose APH Park and Ride for your fuss free, budget Gatwick parking. The friendly team will park your car for you, then all you need to do is hop on the transfer bus; you'll be at the terminal in just 10 minutes.
Meet and Greet serves both terminals
The great advantage with Gatwick parking Meet and Greet is that you can drive straight to the terminal and not worry about transfers. All our Meet and Greet providers at Gatwick serve the North terminal and the South terminal so, whichever you choose, you can rest assured it remains as hassle-free as possible.
Take your pick from our fantastic range of Gatwick airport parking chauffeur options that serve both terminals:
Getting to Gatwick car parks
Going away on holiday? You might like to know how to get to the airport first, and where to find car parking at Gatwick too! The airport itself can be accessed via road and rail, and we provide directions to all of our Gatwick car parks with our booking confirmation. Take a look at the Gatwick airport parking map below for a quick glance at our Gatwick parking locations. For written directions visit our directions to Gatwick car parks page.
Directions to each Gatwick airport car park
Reviews for parking at Gatwick
What our customers have to say about parking at Gatwick airport when they booked with Airparks:
Customer Reviews
I Love Meet and Greet

Very easy system to use, just a phone call and within minutes they arrive to collect your car. Much closer to Gatwick Nort Terminal than other services I have used and that s all makes for a quick and clean departure. Will certainly use thIs service again

Mr Goodson-Keynes

Mon 26th Jun 2017

(5 out of 5)

Purple Parking

Really easy service to use. Polite and friendly staff who I was happy to leave my car with. Will definitely use purple parking again!

Miss Davies

Tue 27th Jun 2017

(5 out of 5)

Cophall Parking

Quick check in and out

Mr Ashton

Mon 26th Jun 2017

(5 out of 5)

Long Stay South

very straightforward

Mrs Baker

Mon 26th Jun 2017

(5 out of 5)

Summer Special

Quick and easy to use both before and after arrival

Mr Jones

Mon 26th Jun 2017

(5 out of 5)
Helpful Advice
Whether you're heading for a relaxing break or a fun-filled adventure, you can tailor your airport experience to your exact needs.
Before you book:
Before finalizing your Gatwick Airport car parking, consider your travelling requirements. Customers who are travelling with children may want to look at Gatwick parking deals that are good value-for-money (usually Park and Ride), or perhaps opt for the most straightforward, stress-free service (meet and greet is ideal).
Both Meet and Greet and on-airport parking at Gatwick are ideal for travellers with oversized luggage, such as sports gear, as this equipment is not always permitted on Park and Ride transfer buses.
You can also get great Gatwick parking and hotel deals when you book with us. For more information, take a look at our why book with Airparks page. Our reliable services can't be beaten on price, and just for your reassurance, we also have a Best Price Guarantee.
Once you've chosen your Gatwick Airport parking:
We aim to help make your pre-flight experience as simple and stress-free as possible. Take a look at our step-by-step guide to passenger procedures before boarding at Gatwick airport. Once you're at the airport, it's time to start enjoying your holiday. As the UK's second largest airport, Gatwick boasts free wifi throughout, ample shopping and loads of top eateries.
Money Saving:
Your best way to save money on parking at Gatwick airport is to book as early as possible in advance. This could save you up to 60% off the gate price that you would pay on the day. However, even booking last minute Gatwick parking will be cheaper than not booking it at all. But if you're just looking for straightforward, the off-airport car parks are invariably the cheapest.
Sign up to our Airparks newsletter on our Homepage for Gatwick airport parking and hotel deals. Emails are sent out every fortnight and offer 10% off a number of Airparks products. When your email comes through simply follow the link to get your discount when booking online. Alternatively, if you'd prefer to place your booking over the phone, the Gatwick airport hotel and Gatwick airport parking promo code is at the bottom of the email, which you can quote over the phone.
Take a look at our Top Tips to ensure you get the most out of your Gatwick parking.
Add ons:
Would you like to treat yourself to a little extra break when you go away? Take a look at our Gatwick airport hotels; ideal if you have an early flight, and a great way to begin and/or end your break. Book your Gatwick airport parking and hotel as a single package to save time.
Or perhaps you could do with a little calm and relaxation at the airport? Book into an airport lounge and step away from the hustle and bustle of departures. Check out our additional services for Gatwick hotels, airport lounges, travel insurance and car hire.
FAQs
For more information, have a look at our Frequently Asked Questions. If you have any further queries, please contact us
Gatwick Airport Parking

Reviews

Gatwick Airport Parking is rated, on average, 4.3 out of 5 by 28,664 Airparks customers

Cophall Parking
Quick check in and out
Mr Ashton
Mon 26th Jun 2017
(5 out of 5)
Long Stay South
very straightforward
Mrs Baker
Mon 26th Jun 2017
(5 out of 5)
Summer Special
Quick and easy to use both before and after arrival
Mr Jones
Mon 26th Jun 2017
(5 out of 5)
Read more Gatwick airport parking reviews
Gatwick Airport Hotels with Parking
If you are driving to the airport, an airport hotel with parking is a great way to travel.
From only £37.00 ( 1 night and 8 days parking )