You are here: Home > Airport Parking > Manchester > Toad Parking Meet and Greet
Toad Parking Meet and Greet Manchester airport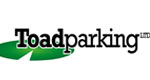 Toad parking is no longer available to book. Check out our Manchester airport parking for other great parking offers.
Toad Parking Meet and Greet is a new service at Manchester airport. You'll be met at the terminal by a driver, who will park your car in a secured undercover car park while you're away. When you return from your holiday your car will be brought back for you.
Transfers: No transfers are needed as this is a Meet and Greet service.
Arrival procedures: Please call 07595258665 when you are 20 minutes away from the airport to confirm your arrival time.
Departure procedures: On your return, we ask that you call the number provided only once you have collected your luggage. We will then give you instructions on where to meet the driver with your car.
Security: Your car will be stored at a secured compound which is manned 24 hours a day, has CCTV and electric gates.
Important information:

Please note this car park cannot accept bookings for any vehicles with a trailer, a carrying capacity of more than two vehicles, commercial vehicles with a gross weight in excess of 3.5 tons or motorcycles.
It is VERY important you call us 20 minutes before you are due to arrive at Manchester airport. This is so we can inform you of any security changes and collection changes. It also gives us time to send a driver to meet you at the terminal on time.