Airport Hotels
Airport hotels offer the chance to start or end your holiday with a touch luxury. They are also a practical and convenient solution to the problem of arriving back to the airport late at night or having to depart early in the morning.
Rather than endure a tiring drive home late at night after a draining flight, book a hotel near the airport. You can be in a warm, comfortable bed within minutes of stepping of the plane, and awake the next morning refreshed for the last part of your journey home.
No need to make a bleary-eyed car journey to catch your flight in the early hours of the morning; book the night before you are due to depart in a hotel close to the airport. You can wake up on the day just a short transfer ride away from the airport terminal, making the start of your holiday a lot more relaxed.
Airparks' airport hotels with parking can actually work out cheaper than booking airport parking on its own. By pre-booking online you can make huge savings, and all our airport hotels are covered by a Best Price Guarantee, so you can be sure of paying the lowest prices on the market. Airparks' do not provide airport hotels ourselves, but we are proud to recommend our preferred partner, Holiday Extras, who offer a great range at airports around the country.
Why book an airport hotel?
We highly recommend the use of airport hotels because we know how much of a difference a comfortable over-night stay can make to your travelling experience. We constantly receive positive feedback from customers who have booked an airport hotel with us.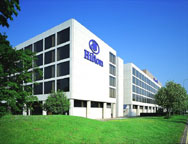 Dictate your own travel time-table and avoid the airport traffic
Perfect for late or early flight times, make it convenient for you.
Courtesy hotel transfers to the airport for a stress-free experience
Choose an airport hotel with parking and save the worry about parking your car
Be confident of getting a great deal with our best price guarantee on airport hotels and parking
Start your holiday early, or end it relaxed
Great rates on UK airport hotels
We have excellent rates on hotels at some of the busiest airports in the UK. Take a look at our selection of Gatwick airport hotels and discover why we are the number one choice. We also have great deals on Heathrow airport hotels, Stansted airport hotels and Manchester airport hotels.
Airport Hotels
Aberdeen Airport Hotels | Book a room from £39
Airparks offers a great choice of Aberdeen airport hotels to stay at before your flight from Aberdeen airport. Take a look at the room and hotel that will suit your requirements best, then book with Airparks for excellent prices.
Belfast International Airport Hotels | Up to 60% off rooms nearby
Pick your room for the night before you fly from the closest UK airport to the USA - Belfast Airport has some great tickets to the states, and at Airparks Services we can offer you fantastic hotel prices close to the airport. Book online today.
Birmingham Airport Hotels | Rooms near the terminal from just £45
Choose from a wide range of airport hotels at and around Birmingham International Airport. Accommodation at Birmingham Airport needn't cost the world - book yours online with Airparks for some fantastic prices.
Bristol Airport Hotels | From £64.95 per room
Choose a Bristol airport hotel for a great nights sleep before your morning departure. Bristol airport operate some flights to New York, so why not get a room for the night before you fly to be fully rejuvenated for your flight.
Cardiff Airport Hotels | Airparks
Stay the night before your flight at a Cardiff Airport hotel. Good prices are available for accommodation at the Cardiff Sky Plaza hotel. Booking with Airparks can give you a real bargain on Cardiff Airport accommodation.
Coventry Airport Hotels | Airparks
Save driving to Coventry airport first thing in the morning and book an airport hotel the night before at a mighty fine price. We have a couple of accommodation options close to Coventry airport.
Doncaster Airport Hotels | Airparks
The 3 star Ramada Encore is a vibrant and contemporary hotel situated on-site at Doncaster airport. With its stylish interior, spacious bedrooms and close proximity to the airport, the Ramada Encore is the perfect choice of hotel.
Dover Port Hotels
Choose your room at our Dover Ramada hotel before you sail from Dover Port. Get a good price for your accommodation at Dover Port with Airparks, and save money for your trip. Book online today.
Dublin Airport Hotels | Airparks
There are two fantastic four star hotels to choose from at Dublin airport. Get great prices when you book a Dublin airport hotel with Airparks, whatever room size you require.
East Midlands Airport Hotels | Compare 5 Hotels Near The Terminal
Grab a great sleep at East Midlands Airport hotel before you fly. We have a great selection of East Midlands airport hotels, at excellent prices.
Edinburgh Airport Hotels | Compare rooms from just £52 per night
Hook yourself up with an Edinburgh airport hotel and parking deal and save money with Airparks. We have a great selection of accommodation near Edinburgh airport, take a look and see how much you can save and book online today.
Gatwick Airport Hotels | Rooms Near the Terminal From £37
Take your flight feeling refreshed and ready for travel! We have a wide selection of Gatwick Airport accommodation, so book your room today with Airparks for a great price. Start your holiday early with a Gatwick Airport hotel with parking.
Glasgow Airport Hotels | Stay from just £44
Pick up a purse pleasing deal on one of our Glasgow Airport Hotels - we have a great selection of accommodation options. Choose your room for the night and even a space for your vehicle all at a great price with Airparks.
Heathrow Airport Hotels | Rooms from just £35 per night
By booking one of our Heathrow hotels the night before your flight, you can travel feeling refreshed and avoid morning traffic. Booking online in advance with Airparks can equate to great savings.
Leeds Bradford Airport Hotels | Airparks
Fly from Leeds Bradford Airport after a night in a comfy airport hotel. Prebook your Leeds Bradford accommodation with Airparks and enjoy not only a great night's sleep, but low prices. Book online today.
Liverpool Airport Hotels | Stay Near The Terminal For £58.65
Day Trippers can recover from a Hard Days Night at the Liverpool Marriott hotel. Puns aside, we have great prices for hotels near and on Liverpool airport, pre-book online with Airparks for the excellent offers.
London City Airport Hotels | Airparks
Flying from London City Airport? We have a stylish and contemporary hotel for you to book whether you need to stay before your flight or if you need to stop over in the capital for the night. Prebook your London City Airport hotel today with Airparks.
Manchester Airport Hotels | Rooms from £39 with Airparks
Compare Manchester airport hotel deals, with rooms for as little as £44. Book online today with Airparks for savings on top airport hotels.
Newcastle Airport Hotels | Airparks
3 and 4 star comfort available at Newcastle airport hotels just minutes away from the terminal. Book your accommodation near Newcastle Airport to guarantee your arrival in the morning and a great night's sleep. Book today with Airparks for a low price.
Norwich Airport Hotels | Airparks
Enjoy a night at the Hilton hotel on-site at Norwich airport by booking through Airparks. An airport hotel is an excellent way to relax in comfort before or after your flight.
Prestwick Airport Hotels
Pre-book your stay at a Prestwick Airport Hotel with parking and it can cost less than airport parking on its own. Take advantage of the great Prestwick Airport hotel and parking deals we offer at Airparks and book online with us today!
Southampton Airport Hotels | Airparks
Fly from Southampton and stay at the Holiday Inn. Book early with Airparks to get your guaranteed room and the cheapest deal on accommodation near Southampton Airport.
Stansted Airport Hotels | Compare 4 Hotels - from just £59
Finding the right airport hotel as never been easier. Airparks offer a wide range of hotel options for Stansted airport, both budget and luxury. Book online today for great savings.
Durham Tees Airport Hotels
Save money and hassle by booking a hotel at Durham Tees Valley. Great prices from Airparks for all your Durham Tees airport hotel needs. For excellent prices book a Durham Tees Airport hotel online and relax in comfort.