You are here: Home > Frequently Asked Questions | Airparks
Frequently Asked Questions
How can we help...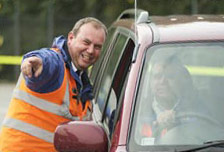 At Airparks, we're dedicated to helping you wherever we can. We want to make your life easier, and have selected some questions that you regularly ask below. Of course, if these don't help please don't hesitate to fill out the feedback form below and we'll be more than happy to assist you.
Why not give us a call today? Our award-winning friendly and helpful call centre are here to assist you with your booking, or any other queries you may have.
View, amend or cancel a booking
Q...
How do I view or amend my parking booking?
A...
Your airport parking booking can be viewed, cancelled or amended on our website by filling out the view, amend or cancel box on the Airparks home page.
If you require to make an amendment to your airport hotel booking, please contact one of our consultants on 0800 747 777.
Q...
Is there an amendment charge if I need to change any details on a booking?
A...
No we do not charge an amendment fee. Please note that if there is a difference in price we will either refund or debit your card for the new amount.
Q...
What do I do if my flight is delayed, or if I go over my pre-booked parking period?
A...
You can pay for any additional parking time on your return. If you are stranded because of the Icelandic volcano disruptions and your car is left at an Airparks car park, you won't be charged for the extra days' parking.
Q...
What is your telephone number? How can I contact you?
A...
For any query, please don't hesitate to call us on 0800 747 777.
Q...
How can I find the car park the hotel uses?
A...
The hotel will provide directions to the car park when you check in.
Q...
If I only require 4 days parking at the hotel, do I still need to book an 8 day package?
A...
The minimum parking duration at our hotels is 8 days - you can of course park for less than 8 days but the charge will be for 8.
Q...
Can I park before my stay?
A...
The majority of our hotels allow this. Once you have booked, can you please e-mail us so we may advise the hotel for you.