You are here: Home > News > Sofitel hotel Gatwick chef wins competition
Sofitel hotel at Gatwick chef wins shepherds pie competition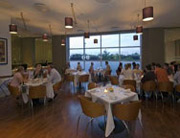 One of the hotels we sell through our partners Holiday Extras, the Sofitel hotel at Gatwick has recently had some exciting news! The executive head chef of the hotel at Gatwick has won the British Shepherds Pie Challenge.
David Woods who competed against 39 other chefs, was judged by the Craft Guild of Chefs and the British Culinary Federation.
To make sure his dish was up to scratch, David organised the Heritage Red King Edward potato crop to be grown in the UK for the first time - and also had the potato harvested for the competition.
David is proud to have come top in the contest and said, "I am over the moon to have won."
Airparks bring you an excellent choice of airport parking, airport hotels, and other holiday extras to make your holiday complete. Book with ease today and get yourself a great price.
Published on: September 15 2009
Other news
Which?Travel finds that Airparks offer cheapest deals
Travellers flying out of East Midlands Airport for the June half term can buy a week's holiday parking for just £44.99
Safer Manchester Airport Parking
Manchester Airport has recently won the "Park Mark" seal of approval at it's car parks. The award for Safe Parking
Book Airparks Newcastle Advance
Make the most of your money and time by pre-booking your Newcastle airport parking with Airparks.
Q-Park Flyaway Savings at Manchester
Manchester Airport Parking need not be expensive when you book with Airparks and our new Manchester Gold - formerly Q-Park Flyaway - facility
Manchester Airparks Low Prices
Flying from Manchester? Looking for low cost off-airport parking? Then look no further - we've slashed our prices at Manchester Airparks for advance bookings