You are here: Home > News > Sofitel hotel Gatwick chef wins competition
Sofitel hotel at Gatwick chef wins shepherds pie competition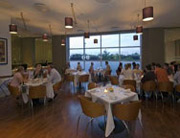 One of the hotels we sell through our partners Holiday Extras, the Sofitel hotel at Gatwick has recently had some exciting news! The executive head chef of the hotel at Gatwick has won the British Shepherds Pie Challenge.
David Woods who competed against 39 other chefs, was judged by the Craft Guild of Chefs and the British Culinary Federation.
To make sure his dish was up to scratch, David organised the Heritage Red King Edward potato crop to be grown in the UK for the first time - and also had the potato harvested for the competition.
David is proud to have come top in the contest and said, "I am over the moon to have won."
Airparks bring you an excellent choice of airport parking, airport hotels, and other holiday extras to make your holiday complete. Book with ease today and get yourself a great price.
Published on: September 15 2009
Other news
Birmingham Airparks Upgrade Underway
Work has begun to enhance security and improve the customer experience at Birmingham Airparks. The £350,000 investment will increase the car park's security features; providing even more secure fencing and improved CCTV.
Manchester Airport Passengers Warned About M56 Roadworks
Planned roadworks on the M56 may delay journey times for passengers travelling to Manchester Airport.
Show and Stay winners
Congratulations to the winners of our fantastic Show and Stay competition!
Update on Airparks' kickboxing champions!
Airparks' two amateur kickboxers won gold in the World Amateur Kickboxing Championships
Giving Airport Parking Prices A Kicking
Airparks have sponsored two amateur kickboxers in the World Amateur Kickboxing Championships