You are here: Home > Airport Parking > Cardiff > Airparks Cardiff
This car park has now closed. Click here to take a look at the other great parking options at Cardiff airport.
Airparks Cardiff

Ideally situated in close proximity to Cardiff Airport, Airparks Cardiff benefits from short transfer times to and from the airport terminal. Plus get on your way even quicker, with our new Autopilot self check - in kiosks. We have spent hundreds of thousands of pounds revamping our car park, making it easier for our customers to park their car. Check in and out in a minute using one our of our new high tech machines. It's that easy.

Leaving your car with Airparks Cardiff means peace of mind for your trip; the car park is fully secured with a range of security measures in place, including CCTV, 24 hour patrols, flood-lit parking bays and high security fencing. In fact, the security at Airparks Cardiff is considered so secure, the facility has been awarded the Park Mark for safer parking by the police.
For an affordable, professional Cardiff Airport parking option, book Airparks Cardiff today.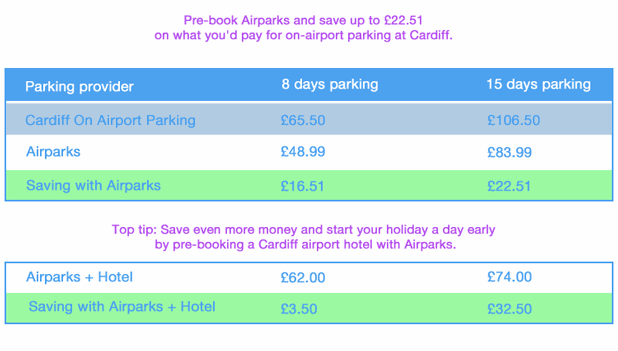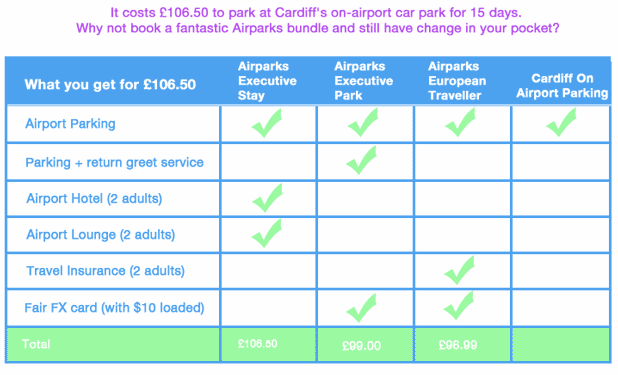 Airparks Cardiff Easy as 1-2-3...
Pre-book your airport parking at Cardiff airport through Airparks and make life easy for yourself.
Airparks are confident in our prices - so confident , in fact, that we guarantee to be cheaper than the on-airport gate price.
By pre-booking Airparks, you know your parking space will be guaranteed. If you just turn up at an on-airport car park, you could be searching for a space for a while - or not even get one.
Save even more money by booking Cardiff airport hotel and parking packages with Airparks. You can save up to £46.51 - terms and conditions apply.
Airparks Cardiff procedures
Using off-site Cardiff airport parking generally means that you will need to take a transfer to-and-from the Cardiff airport terminal. There's no need to worry about getting to the airport terminal with Airparks Cardiff; we provide inclusive transfers that run 24 hours a day. Transfers take only three minutes and run every 20 minutes.


On arrival...
When you arrive at Airparks Cardiff, park in one of the marked bays and make your way to the bus shelter. Here you will find the new self check-in kiosks. You can now try the fast track check-in service - it's there to help reduce any queues.
Please make sure you have your printed email confirmation or your booking reference to use with the self check-in kiosks.
The system will guide you through your check-in - it's extremely easy to use. If you do need help, there will always be our experienced staff on hand to help you.
Once you have checked in, all you need to do is drop your car key into the secured box, and board the bus. Your car will be parked for you while you transfer to the airport.

On return...
Airparks Cardiff will have a new drop-off and pick-up point from August 1. Just follow the pedestrian walkway and zebra crossings across the drop-off lanes in front of the terminal, then head down the steps to the Airparks bus stop. Transfers run every 20 minutes.
When you get off the bus, go into the check-out building on the left of the bus shelter. Scan the barcode on your key collection ticket at one of the machines. The machine will show you where your car is parked and give you your car keys back. Then you can just collect your car and drive home. If you have any problems, press the help button.
If you come back from holiday early, you'll need to call the car park so they can make sure your car is ready for you.
Important transfer information:

Transfers are included in the price and run every 20 minutes, 24 hours a day. The bus takes just three minutes to reach the airport. During the morning and afternoon rush hour, you should allow more time to compensate for traffic delays.
All Airparks buses have disabled access. If you need assistance once you have reached the drop-off point at the airport, please press the help button next to Airparks bus stop. Customers who will be using the Airparks transfer bus as a part of their journey to the airport must be advised that skis, snowboards, bicycles, surfboards or anything as large/larger than these items will not allowed on the bus. You can drop large items off at the terminal with a passenger and then drive your car to Airparks. If not, a one-way Meet & Greet service can be booked on arrival at the car park.
See how our new self check-in kiosks work. Swot up before you go.
Need to find us? Take a look at our detailed Airparks Cardiff map & directions or check out our written Airparks Cardiff directions Please note: We recommend you do not use this postcode in your satellite navigation.
Check out our Airparks Cardiff Gallery