You are here: Home > News > Durham Tees Price Buster
Durham Tees Valley Price Buster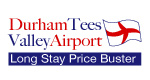 We have a fantastic new offer available for long stay parking at the Durham Tees Valley on-airport car park. The Price Buster package is another way to save even more money on airport parking with Airparks.
Durham Tees Valley On-Airport parking provides convenient on-airport long-term car parking within easy walking distance of the terminal.
This new package offers the same service and offerings that you would expect from Durham Tees Valley on-airport parking, but just at an impressive rate for booking in advance.
This package is bookable now for immediate stays with prices from just £22.99 for an 8 day stay & £29.99 for 15 day stay, subject to availability.
Please note: Bookings made under the Price Buster product CAN be amended and cancelled.
Check out the link for Durham Tees Valley On-Airport parking and grab yourself a great deal on Durham Tees airport parking today
Published on November 11 2009
Other news
Which?Travel finds that Airparks offer cheapest deals
Travellers flying out of East Midlands Airport for the June half term can buy a week's holiday parking for just £44.99
Safer Manchester Airport Parking
Manchester Airport has recently won the "Park Mark" seal of approval at it's car parks. The award for Safe Parking
Book Airparks Newcastle Advance
Make the most of your money and time by pre-booking your Newcastle airport parking with Airparks.
Q-Park Flyaway Savings at Manchester
Manchester Airport Parking need not be expensive when you book with Airparks and our new Manchester Gold - formerly Q-Park Flyaway - facility
Manchester Airparks Low Prices
Flying from Manchester? Looking for low cost off-airport parking? Then look no further - we've slashed our prices at Manchester Airparks for advance bookings