You are here: Home > News > Worst winter in 30 years? Airparks can cope...
Worst winter in 30 years? Airparks can cope...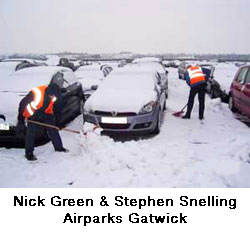 The weather hasn't fared too well over the past couple of weeks and anyone travelling has had to bear the brunt of treacherous conditions across the UK. Not only has it caused chaos to the roads and trains, but also grounding hundreds of flights and closing major airports.
The knock-on effect has been huge, causing disruption and extra hassle to many. Roads being closed, various road traffic accidents, flights being cancelled, people being forced to sleep in departure lounges as airport hotels filled up fast. Those are just a few examples of hectic airport life over the past week or so.
So, what's been going on at Airparks? Despite the treacherous conditions, our staff have been working hard to try and clear snow from cars, roads and walkways. These just a few examples of Airparks trying to combat the difficult climate and ensure minimal disruption to customers.
We'd like to say thanks to all staff for their handling of the difficult weather conditions, and to all customers' who beared with us during road closures and delays. Here's a few comments from customers about how Airparks handled the snow...
"Having been delayed for 36 hours and collecting my car at 04.30 - it arrived within a short time, essentially cleared of snow and ready to drive off. Staff showed willingness and politeness under stressful conditions, having had to dig many vehicles out of snow."
Mr Hansen, January 2010
"Excellent - we use Airparks Manchester Handforth Dean approx 4/5 times per year. We arrived back on Sunday 10th January to seriously BAD weather - at 7am - only to find our car had been cleared of snow and ice for us. A massive thank you to staff at Airparks Manchester Handforth Dean!"
Mr Denver, January 2010
Published by Ross Barnard on January 15 2010
---
Other Related Articles
Manchester Airport Passengers Warned About M56 Roadworks
Planned roadworks on the M56 may delay journey times for passengers travelling to Manchester Airport.
Show and Stay winners
Congratulations to the winners of our fantastic Show and Stay competition!
Update on Airparks' kickboxing champions!
Airparks' two amateur kickboxers won gold in the World Amateur Kickboxing Championships
Giving Airport Parking Prices A Kicking
Airparks have sponsored two amateur kickboxers in the World Amateur Kickboxing Championships
Foreign exchange ATM opens at Gatwick Airparks
Airparks Gatwick has become the first off-airport car parking operator in the UK to provide a foreign exchange cash machine for customers.