You are here: Home > News > Lo-cost airport parking just got even cheaper.
Lo-cost Airparks airport parking just got even cheaper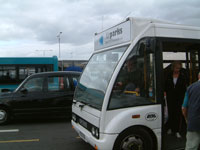 Airparks today announced its LOWEST prices at Luton and Manchester airports.
At Luton, the company is offering an 18 per cent reduction on its Airparks Luton Advance parking deal, from as little as £23.92 for eight days parking and £44.85 for 15 days. These fantastically low prices, equivalent to just £2.99 per day, are available until mid-July.
Between now and the end of April, Meet and Greet parking at Airparks Manchester is available from just £47.95 for eight days and £68.95 for 15 days. That's a reduction of 16 per cent on the usual prices, just £4.60 per day.
Sean Hagger, commercial manager at Airparks, said "This is a great time to book your airport parking at Luton and at Manchester with Airparks. We are proud to offer excellent price reductions on high quality airport parking throughout the UK."
Published on: March 13, 2009
Other Related Articles
Manchester Airport Passengers Warned About M56 Roadworks
Planned roadworks on the M56 may delay journey times for passengers travelling to Manchester Airport.
Show and Stay winners
Congratulations to the winners of our fantastic Show and Stay competition!
Update on Airparks' kickboxing champions!
Airparks' two amateur kickboxers won gold in the World Amateur Kickboxing Championships
Giving Airport Parking Prices A Kicking
Airparks have sponsored two amateur kickboxers in the World Amateur Kickboxing Championships
Foreign exchange ATM opens at Gatwick Airparks
Airparks Gatwick has become the first off-airport car parking operator in the UK to provide a foreign exchange cash machine for customers.