You are here: Home > News > Lo-cost airport parking just got even cheaper.
Lo-cost Airparks airport parking just got even cheaper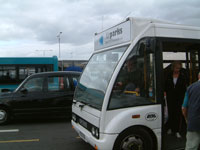 Airparks today announced its LOWEST prices at Luton and Manchester airports.
At Luton, the company is offering an 18 per cent reduction on its Airparks Luton Advance parking deal, from as little as £23.92 for eight days parking and £44.85 for 15 days. These fantastically low prices, equivalent to just £2.99 per day, are available until mid-July.
Between now and the end of April, Meet and Greet parking at Airparks Manchester is available from just £47.95 for eight days and £68.95 for 15 days. That's a reduction of 16 per cent on the usual prices, just £4.60 per day.
Sean Hagger, commercial manager at Airparks, said "This is a great time to book your airport parking at Luton and at Manchester with Airparks. We are proud to offer excellent price reductions on high quality airport parking throughout the UK."
Published on: March 13, 2009
Other Related Articles
Which?Travel finds that Airparks offer cheapest deals
Travellers flying out of East Midlands Airport for the June half term can buy a week's holiday parking for just £44.99
Safer Manchester Airport Parking
Manchester Airport has recently won the "Park Mark" seal of approval at it's car parks. The award for Safe Parking
Book Airparks Newcastle Advance
Make the most of your money and time by pre-booking your Newcastle airport parking with Airparks.
Q-Park Flyaway Savings at Manchester
Manchester Airport Parking need not be expensive when you book with Airparks and our new Manchester Gold - formerly Q-Park Flyaway - facility
Manchester Airparks Low Prices
Flying from Manchester? Looking for low cost off-airport parking? Then look no further - we've slashed our prices at Manchester Airparks for advance bookings