You are here: Home > News > Airport Lounge
Best Price Guarantee on Airport Lounges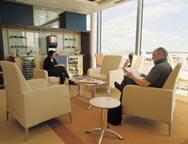 Dedicated to offering the lowest prices and greatest value, Airparks, through our preferred partner Holiday Extras are now offering the Best Price Guarantee* on all airport lounges.
This means you can now start your holiday early, knowing you've paid the best price for a lounge at the airport.
Airport lounges are the perfect way to relax and unwind. In peaceful and tranquil surroundings, you can enjoy complimentary drinks including alcoholic beverages, snacks, newspapers and magazines - and up to three hours before your flight. Take a comfortable seat and enjoy complete contrast to the hustle and bustle of the public departure lounge.
We offer airport lounges from just £13.50pp at 19 UK airports. Pick from a selection of executive lounges offering superb hospitality to really make a difference before your flight.

Published on January 5 2010
*If you find an identical lounge product cheaper within 24 hours, we'll match the price or refund the difference.
---
Other Related Articles
Manchester Airport Passengers Warned About M56 Roadworks
Planned roadworks on the M56 may delay journey times for passengers travelling to Manchester Airport.
Show and Stay winners
Congratulations to the winners of our fantastic Show and Stay competition!
Update on Airparks' kickboxing champions!
Airparks' two amateur kickboxers won gold in the World Amateur Kickboxing Championships
Giving Airport Parking Prices A Kicking
Airparks have sponsored two amateur kickboxers in the World Amateur Kickboxing Championships
Foreign exchange ATM opens at Gatwick Airparks
Airparks Gatwick has become the first off-airport car parking operator in the UK to provide a foreign exchange cash machine for customers.