You are here: Home > Airport Parking > Luton > Luton Carparkz Meet and Greet
Luton Carparkz Meet and Greet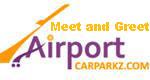 Carparkz Meet and Greet is the ultimate way to start your holiday. It's a form of car parking, but it's all done for you - excellent.
A chauffeur will meet you at the terminal, take your car and park it in a secured car park while you're on holiday. When you come home, simply call Carparkz and your car will be delivered back to you.
Security:
The car park where you car will be stored is fully secured. It is protected by 24-hour CCTV and a fence, and regularly patrolled.
On arrival:
Please call 01582 728585 or 07968 550863 when you are about 30 minutes away. Your chauffeur will meet you in the Short Term car park outside the terminal.
On departure:
Just call Airport Carparkz when you are outside the terminal. Your chauffeur will bring your car to the Short Term car park.
Important information
Luton Airport Carparkz Meet and Greet is well suited to disabled customers as there are no transfers.
Official Luton airport Meet
Luton Airport Spittlesea Road Luton LU2 9QT