You are here: Home > Parking > Gatwick > Airparks
Airparks Gatwick
Get a fantastic deal on Gatwick parking with Airparks. This off-airport car park offers the lowest-priced parking at Gatwick that's excellent quality and great value for money.
Allow yourself the luxury of time when you book Airparks airport parking. The free transfer bus will whizz you to either terminal in just minutes. It takes 10 minutes to get to Gatwick North terminal, and 15 minutes to get to Gatwick South terminal. Jump on any transfer bus - they run to both terminals every 15 to 20 minutes, 24 hours a day, every day.
Don't fret about nasty hidden costs when you book with Airparks at Gatwick - our transfer buses are free!

Car Park
Rating
Transfer Time
Keep Keys
8 Day Price
Airparks Gatwick
8/10
15 mins

No

(?)

£35.99
Airparks Gatwick parking safety:
You couldn't wish for a safer spot to park your car while you're away. Gatwick Airparks has CCTV, floodlighting, fencing and regular security patrols. This car park is so secure, in fact, that it has been awarded the Park Mark award for secure parking, which is accredited by the police, and the AA Gold Secure award.
Airparks Gatwick parking procedure:
When you get to the Airparks car park at Gatwick, pull into one of the arrival bays and walk to reception. Take your booking receipt with you, then check in your car and hand over your keys. You'll be given a receipt, which you should keep on you for when you return. Then wait outside reception for the transfer bus to take you to Gatwick airport.
On your return to the Airparks Gatwick car park...
If your return flight brings you into the North terminal at Gatwick, you'll need to head to either bus stop six or seven to wait for the Airparks bus, while customers for Gatwick South terminal will need to head to bus stop seven or eight. Once you've arrived at the car park, go straight to reception with your parking receipt and you can pick up your car.
Important transfer information:
Bear in mind that you will be catching a bus with a lot of other people, so you won't be able to take large items on it with you such as skis, surfboards, snowboards or bicycles etc. If two or more of you are traveling together, you can get around this by dropping off one person at the terminal with the oversized luggage, while the other one drives round to the Airparks car park.
Need to find us?
Take a look at our map, complete with directions Airparks Gatwick Map. If you prefer written directions, check out Airparks Gatwick Directions.
Please note: We recommend you do not use the Airparks Gatwick Park and Ride postcode in your satellite navigation.
Save money on Airparks Gatwick Park and Ride (flexible):
Why spend more on Gatwick airport parking than you have to? Did you know that the earlier you book the more money you could save? You could even get up to 60% off the gate price of Airparks Gatwick parking.
Save more money with Airparks Gatwick (non-flexible):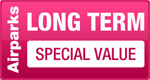 Check out Airparks' non-flexible parking deal at Gatwick. It's an add-on that makes this the cheapest Gatwick parking you'll find, and is ideal for customers whose dates and times won't change. As the name suggests, once you've confirmed your dates and times, you cannot amend them, which is why it's such a cheap Gatwick car park.
Save Time with Airparks Meet and Greet Gatwick:
If you're on a budget but can't afford to waste time on your Gatwick airport parking either, take a look at Airparks' Meet and Greet Services; there are three of them!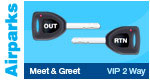 Full Meet and Greet:
The full Meet and Greet service. You won't have to drive to the car park, check in your car or catch transfer buses. You simply drive up to the terminal you're flying from and let a professional chauffeur do the rest. At the end of your holiday, your car will be brought to the terminal for you as well.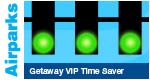 Outbound Greet:
One half of the full Meet and Greet – drive to the airport terminal and meet a chauffeur before your flight. On your return you'll need to catch a Park and Ride bus back to the Airparks Gatwick car park. If you're returning to Gatwick South terminal, you'll need bus stops 7 or 8, and if you're returning to Gatwick North terminal, head to either bus stop six or seven.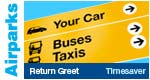 Return Greet:
Park and Ride your way to the airport (drive to the car park, and catch a transfer bus to the airport) but on your way back from holiday, you can have your car brought to the airport so you can hurry on home.
Get dazzling results with Gatwick Airparks' car wash add ons:
Let Airparks Gatwick add a smile to your face and a sparkle to your car with their valeting services. Your car will be cleaned while you're away on holiday, so you'll come home to a sparkling motor.
Silver Valet:
Your vehicle will get a thorough wash, vacuum and the dash will be wiped down too.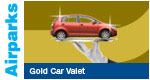 Gold Valet:
The outside of the car will be washed, the inside will be vacuumed, and the dashboard, all plastics and mats will be cleaned.
Tips and Advice:
Save money:
Airparks Gatwick airport parking is excellent value for money and offers a wide variety of low-cost services. What's more, you won't find airport parking at Gatwick that's cheaper than if you book through Airparks.co.uk. Check out our Best Price Guarantee and rest assured that you won't find cheaper airport parking anywhere on the market.
Which Terminal?
Whether you need airport parking at Gatwick North terminal or Gatwick South, Airparks provides Meet and Greet services and Park and Ride transfers to both.
Disabled facilities:
Our Meet and Greet packages are a useful service for persons with disabilities who would rather not have to catch transfer buses. Unfortunately, however, our Meet and Greet staff cannot drive adapted vehicles for insurance reasons.
Airport parking Gatwick Extras:
Add something special to your holiday, and book one of our Gatwick Parking Extras. We have Gatwick airport lounges available if you want to escape the hubbub of the public Departures lounge, or why not treat yourself to one of the many Gatwick airport hotels? Save yourself time and hassle by checking into an airport hotel the day before you fly; all you'll have to do is stroll to the airport the next morning.
Getting to Airparks Gatwick
Airparks is located right on the perimeter of Gatwick airport, just a few minutes from the terminals. When you make a booking, we include directions to our car parking on your booking confirmation. For a look at written directions now, visit our page with directions to Airparks parking Gatwick or type your postcode into the box below for personalised instructions.
Please note: We recommend you do not use the Airparks Gatwick postcode in your GPS.
Directions from postcode:
Airparks Gatwick Address
Airparks Gatwick Reviews
Take a moment to browse through a few recent comments about Airparks at Gatwick airport. Scroll down for gatwick airparks reviews, from our cost-effective Gatwick Airparks Park and Ride services to time-saving Airparks Meet and Greet Gatwick reviews. We've collected feedback from travellers who booked with us. Have a look at what they have to say about our service and value.
Photographs of Gatwick Airparks
Take a look at our excellent service and high quality Gatwick Airparks car parks before you leave, to get to know where you'll be driving to before your holiday!