You are here: Home > Airparks Services > Storage logistics at Airparks
Low cost storage opportunities at Airparks
Do you need a long or short-term storage solution for your goods or fleet vehicles?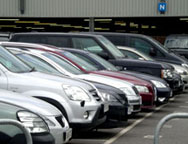 Airparks is one of the UK's largest off-site airport car parking operator with two car parks at key locations in Birmingham and Luton.
Contact Oliver Ashford for a quote or for more information via email on oliver.ashford@airparks.co.uk or call 0121 779 1984.
All of our car parks are secured under the definition given by the Association of Chief Police Officers accredited scheme for car parks. Airparks Services Ltd. has also been Quality Assured to ISO 9001 2000 for secured airport parking and passenger transfer services, an achievement we are very proud of.
Our vehicle storage offers many benefits including:
Park Mark Security protected
Exceptional transport links from all sites
Block parking long term options
Short and long term storage rates
Fully computerised stock reports
Secured compound with key management
With daily rates from just £0.85, our focus is on our customers' needs. We offer a range of prices and options to suit every requirement. Just call us today on 0121 779 1984 for a unique quote.
Book storage with Airparks now
To find out more about Airparks, and our parent company Holiday Extras please visit http://www.airparks.co.uk/about-us.html