You are here: Home > News > SAVE
Liverpool Airport Price Buster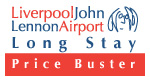 Airparks is pleased to announce a new, impressive cash-saving parking product. Saving money is essential, especially at this time of the year with Christmas fast approaching. If you're going to be using Liverpool John Lennon airport in the near future, you can take advantage of this fantastic Price Buster offer.
The Liverpool airport car park is situated right in front of the main terminal and is within easy walking distance. Both convenient and cost-effective, Liverpool Airport Long Stay is the perfect place to park when flying from Liverpool airport. With our new Price Buster product, parking has never been so easy on your pocket.
This new product is bookable now for immediate stays with prices from just £31.99 for an 8 day stay & £41.99 for 15 day stay, subject to availability.
For more information on the Liverpool Airport Long Stay car park, check out the link Liverpool Airport Long Stay.
Published on November 18 2009
Other news
Manchester Airport Passengers Warned About M56 Roadworks
Planned roadworks on the M56 may delay journey times for passengers travelling to Manchester Airport.
Show and Stay winners
Congratulations to the winners of our fantastic Show and Stay competition!
Update on Airparks' kickboxing champions!
Airparks' two amateur kickboxers won gold in the World Amateur Kickboxing Championships
Giving Airport Parking Prices A Kicking
Airparks have sponsored two amateur kickboxers in the World Amateur Kickboxing Championships
Foreign exchange ATM opens at Gatwick Airparks
Airparks Gatwick has become the first off-airport car parking operator in the UK to provide a foreign exchange cash machine for customers.