You are here: Home > News > You won't be saying 'Geez, where's my car?' at Airparks Glasgow
'Geez, where's my car?'
Airparks Glasgow, self-park site, help the weary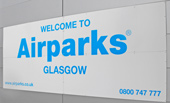 We've all done it, and we all continue to do it. Yes, where did I leave the car? No matter whether you've left it in the green area, Row A or the dolphin car park - after that week or two away, who's going to remember where you parked it? Correction; Airparks Glasgow will.
Airparks Glasgow is a self-park car park, where you keep your own keys for the duration of your trip. With over 2,300 car parking spaces, it's only natural to forget where your lonely vehicle has been sitting, while you've been away enjoying sunnier climates.
Well, worry no more. If you'd rather get on your way, rather than play spot-the-car, Airparks Glasgow now use a date-allocation system for specific areas of the car park. That means they'll know exactly where your car is, rather than you wandering around aimlessly trying to find it.
For more information about low-priced, secured parking at Airparks Glasgow, or to make a booking, click here.
Published by Ross Barnard on April 8, 2010
Other related articles
Birmingham Airparks Upgrade Underway
Work has begun to enhance security and improve the customer experience at Birmingham Airparks. The £350,000 investment will increase the car park's security features; providing even more secure fencing and improved CCTV.
Manchester Airport Passengers Warned About M56 Roadworks
Planned roadworks on the M56 may delay journey times for passengers travelling to Manchester Airport.
Show and Stay winners
Congratulations to the winners of our fantastic Show and Stay competition!
Update on Airparks' kickboxing champions!
Airparks' two amateur kickboxers won gold in the World Amateur Kickboxing Championships
Giving Airport Parking Prices A Kicking
Airparks have sponsored two amateur kickboxers in the World Amateur Kickboxing Championships