You are here: Home > Parking Options > Meet and Greet airport parking
Meet and Greet Airport Parking
An Airparks Meet and Greet allows you to take control. You control what time you arrive at the airport, you decide what time you leave the airport. All you have to do is drive your car to the terminal and we'll take care of the rest.
With an Airparks Meet and Greet, you won't have to wait around for a transfer bus, rely on friends for a lift or call expensive taxi firms. It's easy, there's no hanging around. One of our friendly and professional Meet and Greet drivers will meet you at the airport terminal and park your car for you, leaving you free to go ahead and get your holiday started.
When you return, all you need to do is step off the plane, collect your luggage and give us a call to say you're back. Within minutes a qualified driver will bring your car from our secured car park and deliver it to you at the airport. You can be on the road to home in no time at all.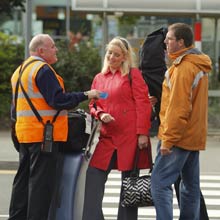 A Meet and Greet service is ideal if you are looking for a simple and stress-free start to your holiday. Luxury packages normally come with a hefty price tag, but not this one. We have fantastic rates available, all covered by our Best Price Guarantee. You know you're getting the best price available.
All of our car parks are secured with CCTV and 24 hour patrols. They have all been awarded the Park Mark award for safer parking. This award means that the car park has been vetted by police, who have certified that the site has exceptional security measures.
You can save time and money by booking Meet and Greet parking at any of the following locations: