You are here: Home > Airparks Services > Inverness Airport Lounges
You are here: Home > Airport Lounges > Inverness Airport Lounges
Inverness Airport Lounges
Avoid the hustle and bustle of the public departure lounge - sit back, relax and enjoy inclusive drinks and snacks in a clean and comfortable airport lounge at Inverness airport.
Booking an airport lounge makes sense if you want a quieter life at the airport, but it makes even more with our Best Price Guarantee.
Relax and start your holiday early in the Servisair Inverness Lounge, enjoying complimentary snacks and drinks up to three hours before your departure from Inverness airport.

Inverness airport lounge
Inverness Servisair Lounge
Contact our Customer Service team
Just give them a call on:
0800 747 777
Book Airport Lounges
Airport Lounges with Holiday Extras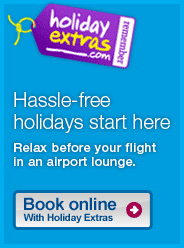 Save up to 60% on airport lounges
Airport lounges from just
£15 per person
(Price quoted is the Belfast Executive Lounge, available until 31st Dec 2014. Prices vary depending on location, length of stay, time of year, and when you book)