You are here: Home > Airport Parking > East Midlands > Stress-free Meet and Greet Parking
Stress-Free Meet and Greet Parking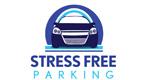 Pre-book Stress-free Meet and Greet Parking, and you won't have to search for a car park, or even a parking space. Simply drive to the terminal and leave your car with the chauffeur. Your car will be parked in a secured car park while you're away and brought back to the terminal for your return. It's as simple as that.
Transfers: Transfers are not needed as this is a Meet and Greet service.
On arrival: Please call our team of chauffeurs on 07721 738549 when you are 20 minutes away from the airport. Your chauffeur will then leave to meet you outside the departures in time for your arrival. It is important if you are running late or early that you call to give as much notice as possible. On arriving at the airport, follow signs for drop-off point, and on entering the drop-off point, stay in the right hand lane to go through the barrier sign posted maximum stay 10 minutes. You will need to collect a ticket from the barrier and hand it to the chauffeur who will be waiting for you.
On your return: On your return, simply call the chauffeur on 07721 738549 when you are waiting for your luggage, and you'll be met at the pick-up point with your vehicle.
Security:Your car will be stored at Airparks. It is manned with 24-hour security, regular patrols and a high perimeter fence. Airparks has also been awarded the Park Mark for safer parking.
Park Mark awarded parking areas are run by responsible operators who are concerned with your safety and the safety of your vehicle.
Important information:
This service is ideal for disabled passengers. Please note that adapted vehicles cannot be accepted for safety reasons.
Please note this car park cannot accept bookings for minibuses, high-sided vehicles, mobile homes, lorries, caravans or trailers, even if multiple spaces are booked. There is a maximum height limit on all vehicles of 2.10m (7 ft).
Your car is stored at Airparks while you're away.
Stress Free Meet and Greet
East Midlands airport Castle Donington Derby DE74 2SA