You are here: Home > Airport Parking > Aberdeen Airport Parking
Aberdeen Airport Parking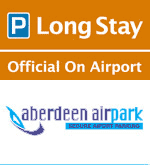 Why pay over the top for Aberdeen airport parking? There's no need to, especially if you book parking at Aberdeen airport with Airparks. Aberdeen airport serves over 2.7 million passengers a year to around 35 destinations. With increasing passenger numbers and a limited amount of Aberdeen airport car parking, it makes sense not only to reserve your space in advance, but also to pre-book Aberdeen parking to save money on the gate prices.
Booking online with Airparks today is the best way to save yourself a considerable amount of money on Aberdeen airport parking. You may ask how, but turning up on the day could see you paying as much as £7 per day. If you book with us, you could pay as little as £4.38 per day. Not only can Airparks offer these low prices, but we also guarantee them with our Best Price Guarantee policy.
Take your pick of off-airport and on-airport parking at Aberdeen airport. For the lowest prices, we'd recommend Aberdeen Airpark off-site car park. If you're looking for a time-saving and convenient car park at Aberdeen, check out Aberdeen Long Stay on-airport car park.
For the lowest prices on Aberdeen airport car parking, look no further than Airparks.
Aberdeen Airport Parking
Aberdeen Airpark - Cheap Aberdeen Airport car parking
Airparks offer great value car parking within easy reach of Aberdeen airport. The minimum stay for advance bookings is just one day, making Aberdeen Airpark ideal for cheaper short stay parking. Savings of up to 60% can be made when you pre-book online.
Aberdeen Airport Car Park Security - central security features
Airparks have put in place a range of quality crime prevention measures at their car parks, so customers can travel with peace of mind. After all, nobody wants to spend their entire holidays worrying about whether or not their car is safe back home.
Aberdeen Airport Hotels with Parking - Save pounds!
Those looking for a stress-free Aberdeen airport parking option should consider booking an airport hotel with parking. Airport hotels with parking can work out cheaper than paying for on-airport parking on its own.
Aberdeen Airport Park & Ride - Bus services to the airport
Airport park and ride services offer you safe, secure airport parking with the additional bonus of a free transfer to the airport terminal thrown in.
Aberdeen Parking Extras - additional services at Aberdeen airport
Airparks and Holiday Extras have produced a range of popular travel and holiday products designed to make any trip abroad a stress free and inexpensive experience.
Aberdeen Off-Airport Parking - cheaper car parking
The Aberdeen Airpark car park is a great choice for off-airport parking at Aberdeen Airport. It is well-located, within a short transfer of the airport and offers 250 spaces.
Aberdeen On-Airport Parking - Book parking near the terminal
Pre-booking a car parking space with Airparks can save you time and money, and provide a stress-free start to your journey from Aberdeen Airport this year.
Cheap Aberdeen Airport Parking - cheap car parking at Aberdeen
Cheap Aberdeen Airport Parking - When flying from Aberdeen Airport this year, why pay the high gate prices at the car parks on the day? Just pre-book your car park space with Airparks and enjoy savings of up to 60%!
Disabled Parking at Aberdeen Airport - car park facilities
The Official Long Stay on-airport car park at Aberdeen Airport is a good option for disabled customers looking for convenient parking at great value. The car park has designated parking bays for Blue Badge holders situated next to the car park exit.
Aberdeen Airport Parking Frequently Asked Questions
Need to know about our best price guarantee or what to do if you have to alter your booking? Check our our FAQs for Aberdeen airport parking.
Last Minute Parking at Aberdeen Airport - Cutting costs
No matter how late you have left it; even if it's the day of your flight, you can still make savings by pre-booking online rather than turning up and paying on the gate at the car park.
Aberdeen Airport Long Stay- On airport car parking
Aberdeen Long Stay is a conveniently located on-airport car park. Offering long-stay parking with a minimum stay of four days, it's great for a short break or a long trip. Pre-book with Airparks today and make considerable savings.
Aberdeen Airport by Road vs rail, coach or taxi
Of all the ways that you can get to Aberdeen airport, taking your own car is by far the most convenient option. You can leave whenever you like, will have enough room for all of your luggage, and won't have to pay the earth either
Save Money Parking At Aberdeen Airport - Tips from Airparks
Airparks are committed to providing the highest quality airport parking around at an affordable price, so we're happy to let you in on a few handy tips of how to make your Aberdeen airport parking cheaper.
Top Tips - Useful advice for parking at Aberdeen airport
Airparks offer both on and off-airport parking at Aberdeen Airport, so whether your priority is convenience or price, we have something for you.
Transfers at Aberdeen Airport Car Parks - transfers to terminal
Services such as transfer buses on demand and courtesy transfers mean you can be assured of a reliable stress free transfer when you book with Airparks.
Travelling With Children - taking children to Aberdeen Airport
The best way to avoid most of the hassle associated with travelling with children is to be well prepared for your journey in advance, and Airparks allow you to do this by pre-booking your Aberdeen Airport parking, as well as a range of other services.
Why Book With Airparks - good reasons to choose Airparks
There are lots of good reasons to book Aberdeen Airport parking with Airparks. Our Best Price Guarantee policy for example ensures customers can obtain the lowest prices when booking airport parking.