You are here: Home > London City Airport Parking
London City Airport Parking
London City airport parking is renowned for its expensiveness. Being in the centre of the capital and easily accessible to hundreds of thousands of people, it's clear why. The worst thing is, many people don't know that they could be making considerable savings on parking at London City airport by booking in advance with Airparks. Turning up and paying the gate rates for London City parking is incredibly unwise, especially when you could be paying up to £36.00 per day - complete madness.
If you think ahead and pre-book with Airparks, it could cost you as little as £21.00 per day - that's up to a £15.00 saving on the gate price. A massive difference for just a few extra minutes of your time. What's more, we even offer a Best Price Guarantee on all of our London City airport parking products.
Reviews for London City airport Parking
34 customer reviews awarded our

London City airport parking

a rating of

86%
London City airport parking Articles
Attractions Near To London City Airport
An important departure point for both business and leisure travellers alike, London City, the only airport to be located in the capital itself, offers flights to over 30 destinations across the UK and Europe.
Cheap London City Airport Parking
Cheap London City Airport Parking - Pre book cheap London City Airport parking online with Airparks and save money. We have the best selection of services offering the cheapest London City Airport parking available.
Saving Money Parking at London City
Among the many things people prioritise when preparing to take a flight, airport parking tends to be near the bottom of the list. This can work out to be a costly mistake.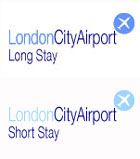 Making your London City parking booking with Airparks is simple through our fast and secure booking process. Why just turn up on the day, and then have to come home to face faffing around with money for the machine? There's no need to when booking online with Airparks. Although, if you'd rather speak to an expert, why not call our friendly UK call centre on 0800 747 777. Not only can you save money and hassle, but pre-booking gives you peace of mind that you have your space reserved before you even arrive at the car park.
Take advantage of two London City airport car parks. If you're going on a short holiday or a business trip, the London City Airport Short Stay car park is ideal and situated opposite the terminal - ultimately convenient if you're on the move.
Going on holiday or for a longer trip? Your best option is the London City Airport Long Stay car park. Situated on the airport grounds, it's just a short walking distance from the London City airport terminal.
If you're looking for a better price on parking at London City airport, there's no better place to look than Airparks.