The Airparks Guide to Liquids in Hand Luggage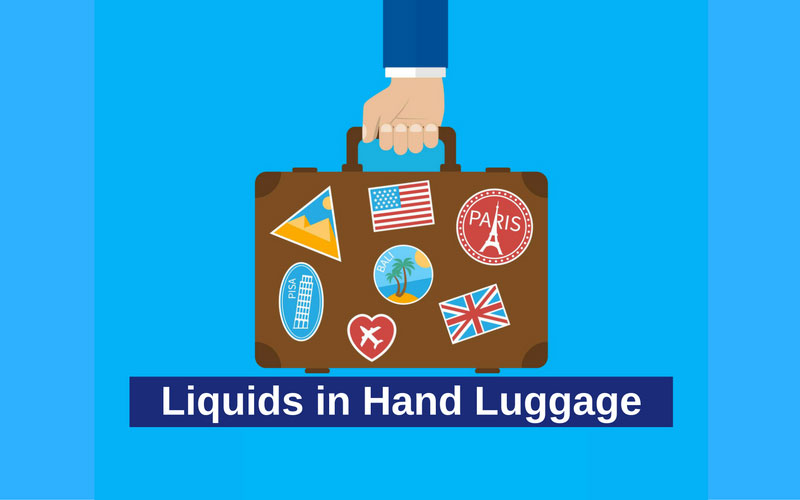 Confused about liquids in hand luggage, and how much you are allowed to bring? It's hard to keep up with airport security restrictions these days, but passenger safety is key. The rules and regulations around air travel can be overwhelming, so let us take you through one of the most stringent, with our guide to carrying liquids in hand luggage.
Know Your Luggage Liquids!
You're probably aware that your drinks will come under scrutiny as you pass through security, but you also need to consider lots of the other items in your hand luggage. What constitutes a liquid as you pass through an airport is rather different to everyday life.
When it comes to liquids in hand luggage, along with drinks, perfumes, aftershaves and oils, we're also talking gels, pastes, sprays, creams and lotions. That means suncream, lip gloss and balms, hair products, mascara, roll-on and spray deodorants, toothpaste, medicines and contact lens solution. And don't forget any foods that are primarily sauce or cream-based and soups, jams and jellies – they count as a liquid too. If you're intending to take any foods from the UK in your hand luggage into your destination country, check their particular rules regarding importing foodstuffs before you go.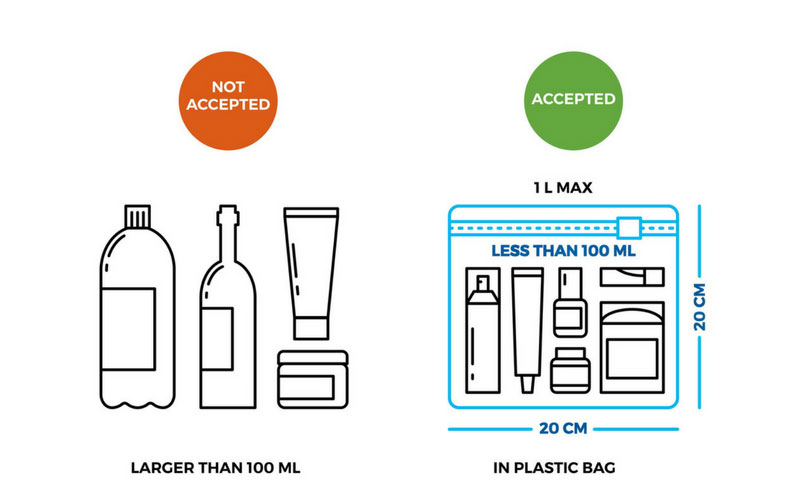 Airport Liquids in Hand Luggage Restrictions Before Security
Before you approach the security queue you can happily carry whatever liquids you like in your hand luggage. However, if you want to move on to the departures lounge without incident you must ensure that any liquids, as outlined above, including drinks, some foods, gels, creams, lotions and pastes in your carry-on bag are in containers of no more than 100ml.
All of your 100ml containers must be kept secure in a transparent re-sealable plastic bag measuring up to a maximum of 20cm x 20cm. The bag must not be tied or knotted and should hold no more than a litre. Each traveller is allowed a single plastic bag and it must fit into your hand luggage.
It's obviously wise to have all this sorted at home before you set off, rather than frantically trying to decant sticky substances or cram travel-sized toiletries into a plastic bag at the airport. Most supermarkets and pharmacies now sell a range of travel toiletries, plastic bags and 100 ml plastic bottles for the task.
Your re-sealable bag will be screened separately from the rest of your hand luggage at security. Understandably, most travellers will need to take larger quantities of toiletries, cosmetics and/or medicine away on a trip, and these can all be packed safely in your hold baggage. See below for the exceptions to the liquids in hand luggage rules for baby milk/food and medication.
Since the airport liquid allowance includes drinks, you must finish any opened drinks (no matter what size they are) before going through security.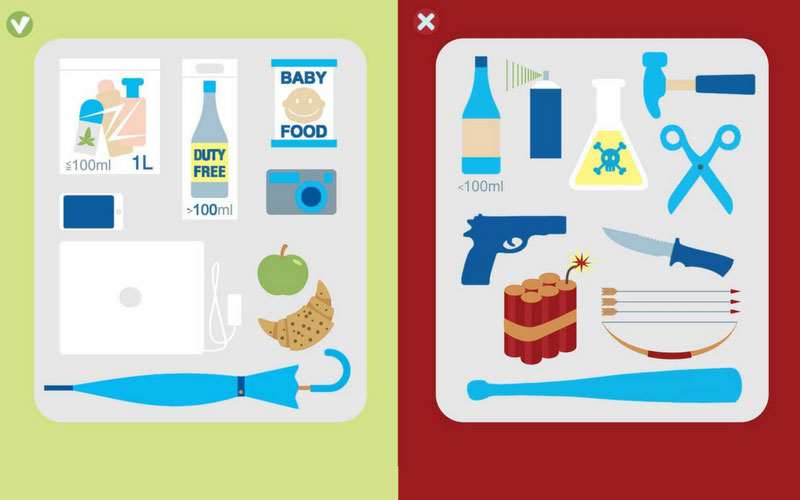 Airplane Liquid Allowance for Baby Milk and Formula
If you're planning to fly with a very little one, the airport liquid restrictions are likely to be bringing you out in a cold sweat. Stop worrying now!
When travelling by plane with a baby or infant (under two years old), the baggage regulations allow you to carry as much baby milk (expressed breast milk, liquid formula, cow's milk or soya milk for babies), powdered formula, sterilised water (in a baby bottle) and baby food in your hand luggage as is necessary for your flight. You won't need to comply with the 100ml liquid limit for these and your baby supplies don't need to be carried in a transparent bag. You should be ready though for airport security staff to give them a very close inspection. In the UK and EU, special equipment is now used to screen liquids rather than tasting.
Other Special Dietary Requirements and Airplane Liquids
If you have any other individual dietary needs that mean you may need to pack more than 100ml of liquid in your hand luggage, make sure you contact your airport and airline before your departure date to confirm the rules and regulations.
Liquids Allowed in Hand Luggage After Going Through Security
Once you have swept into the departure lounge, you are free to buy drinks and snacks of any size and type in the airside airport shops. These can be taken onto your flight in your hand luggage or in the store carrier bags.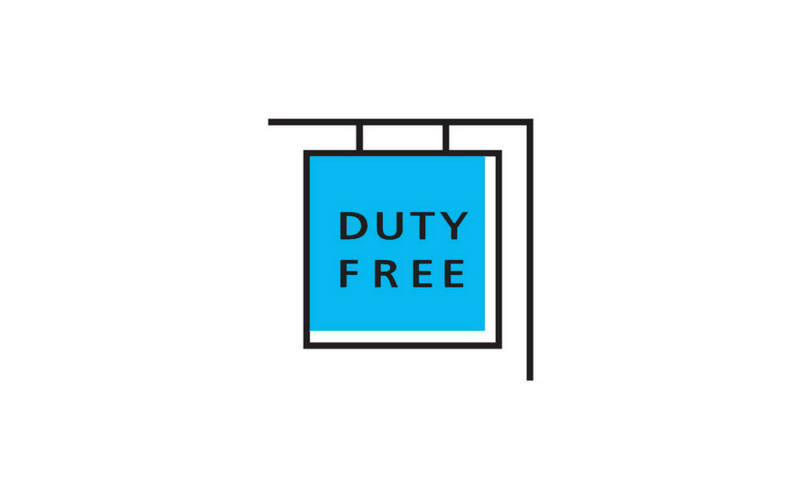 Alcohol and Liquids Allowed on the Plane
Duty-free alcohol is only available to international passengers travelling outside of the European Union. It can usually be bought at the departure airport and also duty-free shops upon arrival. Varying customs allowances apply for individual countries, so if you are travelling from the UK to a non-EU destination and intend to buy duty-free alcohol, make sure you read-up on the limits beforehand. This is particularly important if you are transferring flights at some point in your journey. And remember that if you're flying to or via an Islamic country you may not be able to carry alcohol at all.
Within the EU, there are no allowance restrictions on the amount of alcohol that can be purchased for personal use. Look out for more news on this as the UK prepares to leave the EU.
Officially, questions may be asked if you attempt to carry more than 90 litres of still wine; 110 litres of beer; 10 litres of alcohol stronger than 22% or 20 litres of fortified or sparkling wine or liqueurs up to 22% proof. Although we're assuming nobody would attempt to shift this on an aeroplane! British Airways states that any alcohol carried onto one of their planes must not exceed 70% alcohol by volume, up to a maximum of five litres per person.
For passengers arriving in the UK from a non-EU country, you can bring the following alcoholic drinks into the country without having to pay customs duty: four litres of still wine; one litre of alcohol stronger than 22% proof or two litres of fortified or sparkling wine or liqueurs up to 22%; and 16 litres of beer. But again, check with your airline first.
Naturally, anyone buying booze at the airport or on a plane must be of legal drinking age.
If you buy duty free alcohol at the airport after passing through security (or on the plane), it must be kept sealed and unopened inside a security bag with the receipt visible. You can carry it onto the plane in addition to your other hand baggage. Sadly it can't be opened until you reach your final destination!
Carrying Medication in Your Hand Luggage
Travellers who need to carry essential medication do not have to adhere to the usual liquid allowances in hand baggage. If you will be packing liquid medicines or gel packs of more than 100ml in your hand luggage, ensure you also carry a letter from your doctor, a copy of your prescription or similar supporting documentation from an appropriate medical professional. Have your medicines ready for inspection and be prepared for yourself or airport security staff to open containers to screen your medication.
Hand Luggage and Banned Liquids
Unsurprisingly, the airport liquid rules forbid any chemicals or toxic substances, liquid or otherwise, to be carried in hand luggage or the hold.
Please note that our guide to liquids in hand luggage is based on regulations in place at UK and EU airports in September 2016, in the future these and those of other countries may vary.