Southampton Airport Hotels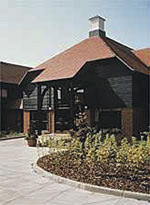 With Airparks you can actually save money on parking by staying at a hotel the night before your flight. If you have an early start or if you arrive back late into Southampton Airport - a hotel stay could be the answer for you.
Be refreshed and ready for the journey ahead after a night in an airport hotel, the perfect antidote to jet lag. Our Southampton airport hotel is just 2 miles from the airport, making it a quick and convenient choice if you're flying from Southampton.
Southampton Airport Hotels