You are here: Home > Airport Parking > Pre-book and save on airport parking
Pre-book and save on airport parking Our top five tips
Airport parking is one of those additional extras required for your holiday, and one that many may rue having to purchase. But there is no reason why your holiday budget should take a hit when booking. We've compiled five expert pointers to help you secure cheap airport parking and save money next time you travel.
1. Always book airport car parking in advance. Never turn up on the day of departure and pay expensive gate prices. Always book as early as possible to save up to 60%.
2. Airparks offers a Best Price Guarantee. Our prices are already incredibly low, and we ensure they remain so with our price policy.
3. Book with Airparks to receive discounted airport parking and offers. We'll send you discount emails to help you save even more next time you book.
4. Off-airport parking saves ££s. Close to the airport grounds with FREE regular transfers means there's no expensive on-airport gate prices.
5. Compare airport parking. Airparks compares rates continually and, with 24-hour pricing, it means we're always up-to-date.
We work with leading suppliers to bring you the best fully secured car parks across the UK at the most competitive prices. By owning our own car parks and having excellent relationships with other site owners, we are able to comprehensively beat all gate prices.
With Airparks' choice of car parks at the UK's biggest airports, you can book Gatwick parking, Manchester airport parking, Luton airport parking, Heathrow parking and Stansted parking at the lowest possible price.
Take a look at a recent article written by the Daily Express in response to a Which? Car report on rip-off airport parking prices. Or see our low prices mentioned in a BBC news article here.
Here's some happy customers that pre-booked and saved...
Mrs Fallini pre-booked and saved - "Pre-booking the car park made our trip to-and-from the airport easier, you don't have to worry about anything as you have already sorted it out from home. Pre-booking the car park is also much cheaper than paying on the day at the car park itself."
Mr Lowe was pleased he booked parking with us - "Fast and Efficient service. The price was half the cost of a taxi. Thanks."
Ms Stokoe said our pre-book prices and service were great - "Booked at Airparks East Midlands, absolutely great. It was £19.99 for the week and they offered an extra service for £20 which included a lift to the airport in our own car, then they delivered the car to the airport so we could drive straight home."
SIGN-UP HERE!
Receive the Airparks newsletter and benefit from the chance to get offers and discounts.
Airparks locations across the UK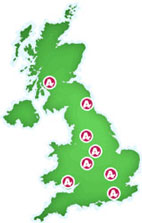 Airparks Birmingham
Airparks Cardiff
Airparks East Midlands
Airparks Gatwick
Airparks Glasgow
Airparks Luton
Airparks Manchester
Airparks Newcastle