You are here: Home > Airparks Services > Car Delivery
Car delivery at Airparks for a great price
Car delivery solutions, from 75p per mile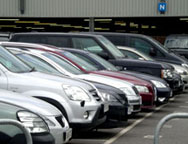 Airparks the UK's largest off-site airport car parking operator, now offer low-cost car delivery solutions within the UK.
Airparks can look after all of your driven car delivery needs including:
Dealer transfers
New vehicle deliveries
Used vehicle deliveries
Corporate deliveries
Handover and service loan cars
We employ more than 300 uniformed car movers and chauffeurs throughout the UK, all of which are subject to:
10 year job history and Criminal Records Bureau check
Regular independent driving assessments
Regular driving licence checks
Our bespoke 'Park-It' system can cater for all of your information requirements; from full vehicle traceability to defect images / reports and our 24 hours a day, 365 days a year operation means that we can arrange for vehicles to be delivered at any time of the night or day. You can even store you're vehicles on our sites before delivery from just £1 per car, per day.  All of our car parks offer a 24 hour manned security system.
Our focus is on customers needs, offering a comprehensive range of products tailored to provide the best choice at the best prices.  If you have any specific requirements, please contact our sales team via email on sales@airparks.co.uk or call 0121 717 5311.
To find out more about Airparks, and our parent company Holiday Extras please visit http://www.airparks.co.uk/about-us.html.