You are here: Home > Airport Parking > Airport parking charges
Don't be stung by airport parking charges
We don't just save you money on airport parking...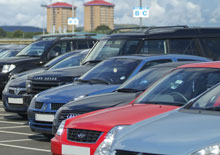 For most people, the cheaper parking quote can often look like the best deal - but there's a host of other factors to think about. Those could be the unexpected if you suddenly have to cancel, if you need to amend your booking, or simply the cost of calling up to make the booking.
That's why Airparks are there to not only give you the cheapest airport parking quote, but also to make sure our customers get the best quality and value service too.
Airparks are not here to rip you off, to sting you with hidden charges or to try and make hidden profits on premium phone rates. But how? We put our customers first and we're proud to park your car. Here's seven reasons why Airparks not only bring you the lowest prices, but also make sure our customers don't suffer in other ways too.
1) FREE 0800. We don't charge our customers to contact our award-winning call centre. Whether it's to make a booking, or just a helping hand with it, our staff will always be more than happy to assist
2) Clear and simple. We offer all our customers the chance to add a small charge of 99p to their booking. This offers cancellation protection up to 24 hours before your stay, meaning a full refund if the unexpected happens
3) Changed your mind? Have you changed the date of your trip, or have your holiday company changed your arrangements? We won't charge you for amending your booking, whether it's the dates or the times
4) Will I be charged for paying? Of course not, if you pay us with your debit card, whether it be Visa debit, including Electron and Delta, Maestro or Solo - we won't charge you any extra
5) Best Price Guarantee. We offer you the lowest price on UK airport parking. But of course, if you find an identical product any cheaper, anywhere else (and we challenge you), we'll be happy to match the price or refund the difference within 24 hours.
6) Save up to 60%. Like some other companies, the difference between parking on-airport and off-airport can be minimal, with some being just 25% cheaper. At Airparks, we're proud to offer savings of up to 60% compared to the on-airport parking companies
7) How do I know my car won't be damaged? We'll take photos of any damage on your vehicle on arrival at our car parks. That means we've got a record of the car's condition when it arrives with us. Some companies will charge you up to £5 to take photos of your own car, but we won't charge you anything
Take a look at a recent article written by the Daily Express in response to a Which? Car report on rip-off airport parking prices. Or see our low prices mentioned in a BBC news article here.
Check out our airport parking page and make your booking with Airparks for complete peace of mind.